In Icom's 50+ years of providing communication solutions, our amateur radio products have always been on the leading edge of innovation. Our new IC-7300 HF transceiver continues that bold tradition by providing yet another amateur radio first – an RF direct sampling system.
And, it doesn't stop there:
Real-Time Spectrum Scope
Audio Scope
Large Touch Screen Color TFT LCD
Multi-dial Knob for Intuitive Menu Selection
Built-in Automatic Antenna Tuner
Introduced at the Tokyo JARL Hamfair 2015, it's now ready for your ham shack.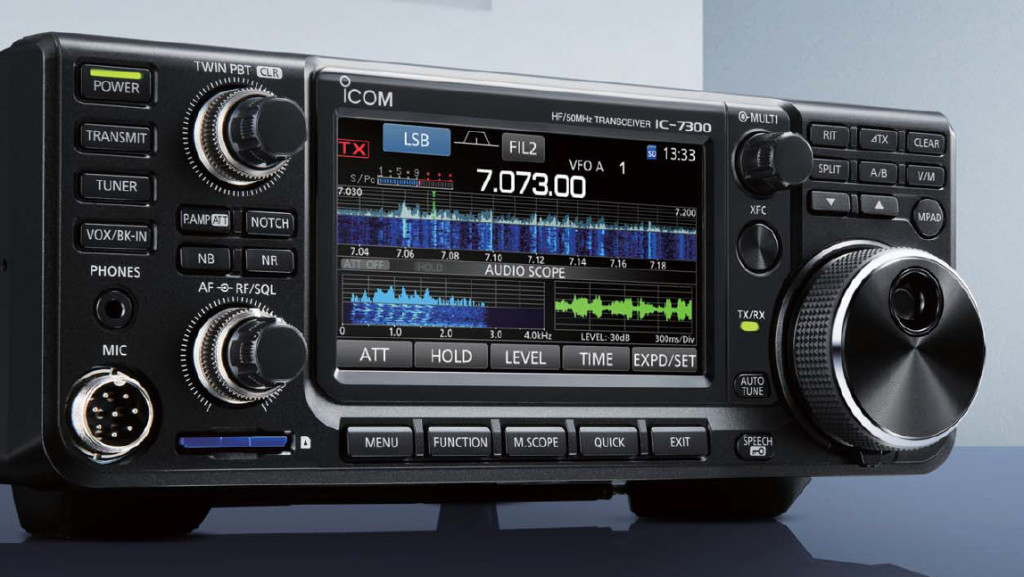 RF Direct Sampling System
We've deployed a field-programmable gate array (FPGA) along with a digital signal processor (DSP) to essentially replace a traditional superheterodyne receiving system. In the bargain, we've eliminated the physical mixer.
This is the technology used in software defined radios (SDRs). Based on our research, it's a first in an amateur radio transceiver among major amateur radio manufacturers. This approach provides class leading phase noise characteristics in both receiving and transmitting — that makes for quieter QSOs and better DX.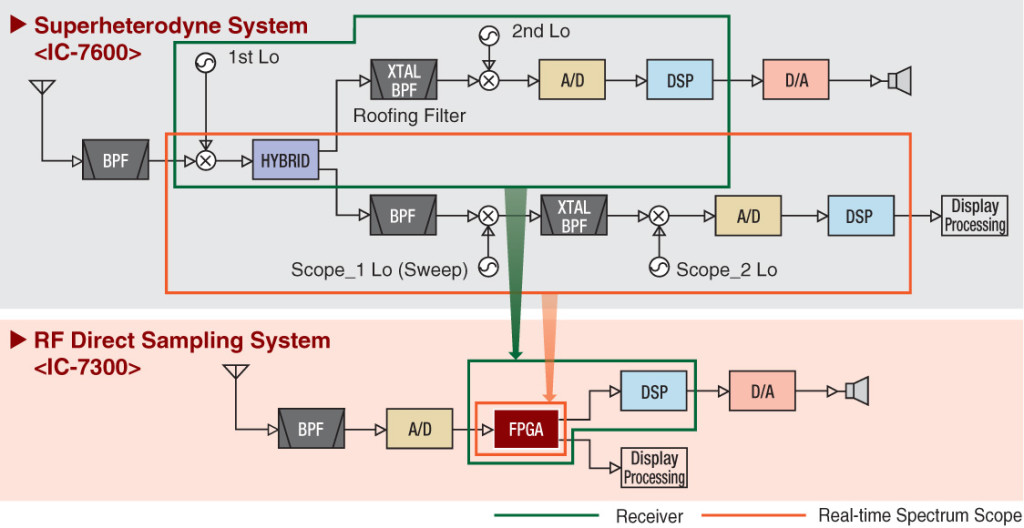 Real-Time Spectrum Scope
That RF Direct Sampling System also provides the IC-7300 with a spectrum scope with adjustable span width from 5 kHz to 1 MHz, waterfall display, 1 dot resolution, reference level adjustment from -20 dB to +20 dB, average and maximum hold indications, and touch screen operation.
Our innovative approach to every aspect of the 7300's design means that a serious spectrum scope is no longer limited to expensive high-level transceivers. You can now add it to your ham shack and do so without breaking the bank.
It's exactly what you need to see both the DX and the pile-up along with who's responding and where your signal should be to help the DX find you. Touch the screen around the signal of interest and it's magnified. A second touch moves the operating frequency, allowing you to quickly zero in on the signal.
The spectrum scope also provides a high-resolution waterfall function. This function clearly shows the incoming signals as they change over time, allowing you to detect weak signals and tune to them.
Audio Scope
Not only can you examine incoming signals through the real-time spectrum scope, you can also examine the signal's audio characteristics through the audio scope function.
This allows seeing the impact of filter width, notch filter, and keying waveform. Plus, you can not only examine incoming signals but also your transmitted signal. Perfect for ensuring that you're using just the right amount of microphone gain and compression.
Large Touch Screen Color TFT LCD
The spectrum scope, audio scope, operational readouts including frequency, along with menus all display on a 4.3 inch Color TFT LCD display. It's like working with your smart phone in your ham shack. You see what's happening and can respond instantly with a touch of your finger.
Multi-dial Knob for Intuitive Menu Selection
Touch screen simplicity wasn't enough for our design engineers. They made the menus even more accessible and intuitive through the use of a multi-dial knob. Push the knob and menu items appear on the display. Select an item via the touch screen and use the knob to adjust the levels. It takes working with multiple menus to a new level of simplicity.
Built-in Automatic Antenna Tuner
The compact chassis of this superb transceiver is just begging to be put into use for field operation. The built-in automatic antenna tuner helps with matching whatever antenna you've got to the rig for get-on-the-air capability. Of course, the tuner also works with whatever antenna you're able to put up at home.
And There's More
You'd expect all this in high-level transceivers, but there's so much more:
15 discrete band-pass filters
SD card slot – save audio, screen captures, memories
USB for rig control and audio
101 memory channels
Fully featured CW and RTTY keyers (and RTTY decode)
Voice memory function
Digital noise reduction
100 watts output from 160 to 6 meters
SSB, CW, RTTY, AM, and FM
There's so much more that we can't possibly cover it in this short blog post. But we've gone one better. You can find a full listing of all the features and specifications, including videos, at IC-7300 – The Innovative HF Transceiver with High Performance Real-Time Spectrum Scope.
Is It All About Features?
No, it's not all about features. But we sure like to show them off. After all, when you're a communications powerhouse with lots of superb engineers and designers, it's what you do.
But it's also about fun and the pure enjoyment of amateur radio. That's what the IC-7300 offers. Top level technology and innovation, for sure. But also having a great time with a cool radio working DX or rag chewing. It will get it done for you and provide hours of enjoyable operating.
There's one in stock now at your local dealer. Make sure you get yours.