Many who have seen the preliminary information on the IC-7300 have used terms like "Revolutionary"  and "Game Changer".  How could a radio in this price category generate the amount of excitement?  A new receiver design – Direct RF Sampling.  But before we go into the differences and benefits of a Direct RF Sampling receiver, lets get a basic understanding of this NEW design.
Direct RF Sampling
With the advances in RF design, a new series of semiconductors are available that digitize segments of RF Spectrum.  While traditional receiver designs utilize Local Oscillators, LO, these Analog to Digital converter, ADC, devices have become the heart of the IC-7300 receiver design.  As you read through this blog, you are taken through a topical review of this receiver, but nothing takes the place of an actual "on air" experience.  So, you will want to head to your favorite Icom dealer to "hear" this science in action!
Superheterodyne versus Direct RF Sampling
You've seen the charts comparing these two methods of building a receiver front end, shown below.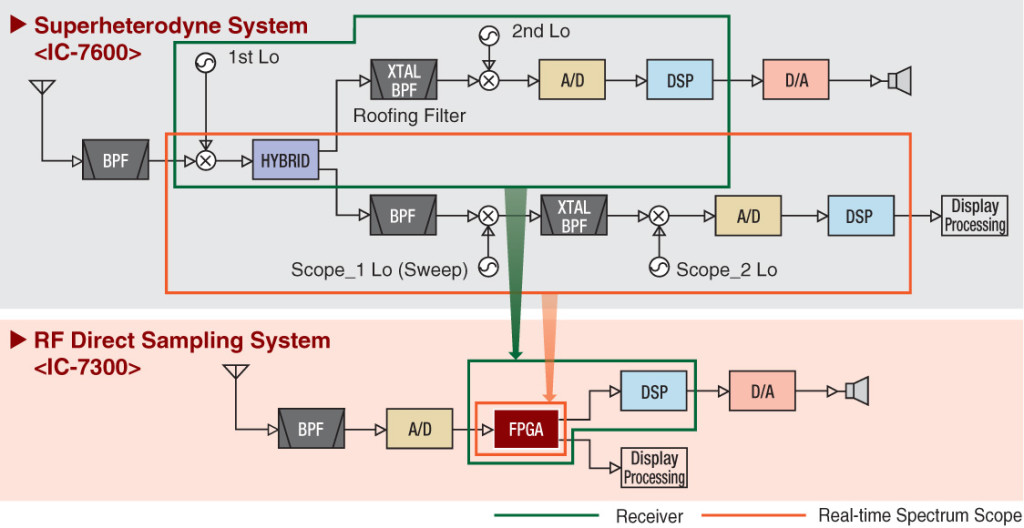 You can see that there is a great deal of simplification going on in terms of components and general complexity.
For deeper background into direct RF sampling, check out the paper Direct RF conversion: From vision to reality. To quote:
In a direct RF-sampling architecture, the data converter digitizes a large chunk of frequency spectrum directly at RF and hands it off to a signal processor to dissect the available information. This is a paradigm shift that takes what has traditionally been handled by analog processing (mixers, local oscillators and their attendant filters and amplifiers) into the digital domain.
Paradigm Shift
We love the term "paradigm shift" or better said — this changes everything.
And Direct RF Sampling does change everything for the IC-7300. It allows us to produce a much smaller transceiver. It allows us to improve the receiver's phase noise characteristics due to the improved RMDR (reciprocal mixing dynamic range). See the comparison to the IC-7100 and IC-7200 in the charts below.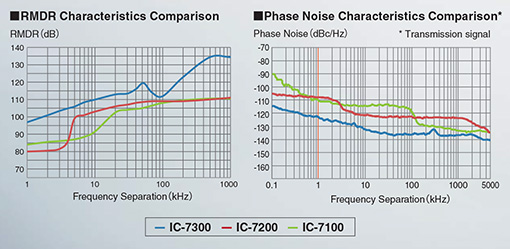 Plus, once everything is already in digital form, it simplifies the circuitry required for the band scope with real time displays of signals in both the frequency domain, through the band scope, and in the time domain, with the audio scope. You also have a waterfall display that combines both time and frequency domains.
It Gets Better
And, it does get better. The new "IP+" (Intercept Point Plus) feature extends the ADC (Analog to Digital Converter) dynamic range when strong signals are present. It makes the best use of the direct sampling architecture to optimize the level of the ADC for strong input signals to reduce distortion and minimize the reduction in sensitivity for weak signals. Its two modes are ON for optimum linearity with strong signals present and OFF for optimum sensitivity, when strong signals aren't present.
Entry-Level Transceiver? Sure…
We've pulled out all the stops to apply innovative technology and paradigm shifting design to create a first ever entry-level transceiver with direct RF sampling.
Yet while we call it entry-level, that mostly has to do with the price. To our lights, ham radio is all about having fun on the air and this transceiver, entry-level or not, just plain maximizes fun — and does so for any level.
Find Out More
We provided links to the promotional brochures above along with an active Facebook group. We also suggest checking out Bill Jourdain AB4BJ's early review at First Impressions of the Icom IC-7300 HF + 6M Transceiver. He provides some superb insight into this delightful transceiver. If that's not enough for you, read the initial blog that we published to announce the IC-7300.
You can also download the Basic IC-7300 Operations Manual (Basic) (PDF) or the Full IC-7300 Operations Manual (Full) (PDF) for still further detailed insight.
Better yet, get out to your Icom dealer and see it first hand. Then pick one up and install it in your ham shack!