#IcomEverywhere turned out to be just that — absolutely everywhere. It was a true whirlwind of activities from one end of HARA Arena to the other. And, it also took in Contest University, the DX Dinner, Contest Dinner, and D-Star InfoCon.
Icom Booth
Each year we plan and focus on putting together a really fun experience for everyone who attends Hamvention®. It's a massive effort and thanks to everyone on our staff and many, many others that helped out.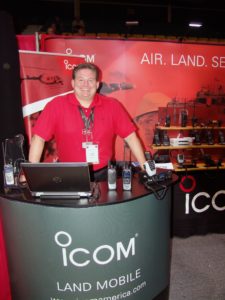 As part of our #IcomEverywhere campaign, we also showed off our extensive range of land mobile equipment as well as a sprinkling of marine and avionics products to engage with a broad range of radio enthusiasts at the show.
Ham Nation: Live From Dayton
The big part of my Hamvention started on Wednesday evening from the live telecast of Ham Nation. The entire Icom crew was in the live audience and Will Jourdain, AA4WJ, and I were in front of the camera talking with Bob Heil. You can see the full episode at Ham Nation 248 – Live from Dayton, It's Wednesday Night!
Contest University
Thursday's CTU forum is always a highlight of the Dayton experience that provides a deep-dive with knowledgeable instructors and professionals. Tim Duffy, K3LR, and his crew put on one of the best organized activities in Dayton and you're sure to walk away learning something new. We were delighted to provide a live streaming video of many of the presentations.
Dealer Dinner
Thursday evening was a big gathering of all our dealers for dinner and some fun. The theme this year, which you can see from the photo, was Star Wars. I guess you might say that #IcomEverywhere extended to a galaxy far, far away.
Max Our Mascot in Action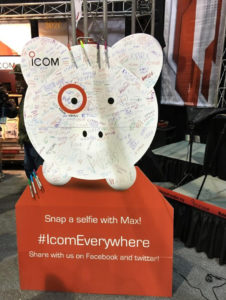 Friday morning saw Max, of Zack and Max comic book adventures, in the booth shooting selfies with anyone who came by. He was also collecting signatures, which you can see in the nearby photo.
IC-7300 — Game Changer
We imagined the IC-7300 would be a real hit at the show and it didn't disappoint. We had four in action in our booth and they were packed with excited fans the entire time. It's wonderful to see the enthusiasm surrounding this great new rig. Check with your local dealer to see what it can do and hopefully test one out if you didn't get a chance at the show.
Youth Forum
Always a highlight for me is the Youth Forum and watching Carole Perry, WB2MGP, in her work with youth. It was a particular pleasure to see Carole awarded the YASME Excellence Award at the start of the forum. Congratulations, Carole.
Here's the full line up of youth at the forum: Maria Lysandrou, KD9BUS; Kelsey Seymour, K3LSY; Brandon Geik WA9REV; Eli Musgrave KM4HFZ; Zach Haidari, KM4QIV; Hope Lea, KM4IPF; Skyler Fennell, KD0WHB; Jacob Nagal, AD0JA; Marty Sullaway, KC1CWF; William Ferguson, KJ4EYZ; and Dhruv Rebba, KC9ZJX.
They all did a superb job with their presentations and you can see the prizes that they walked away with as well, including a ID-51A PLUS.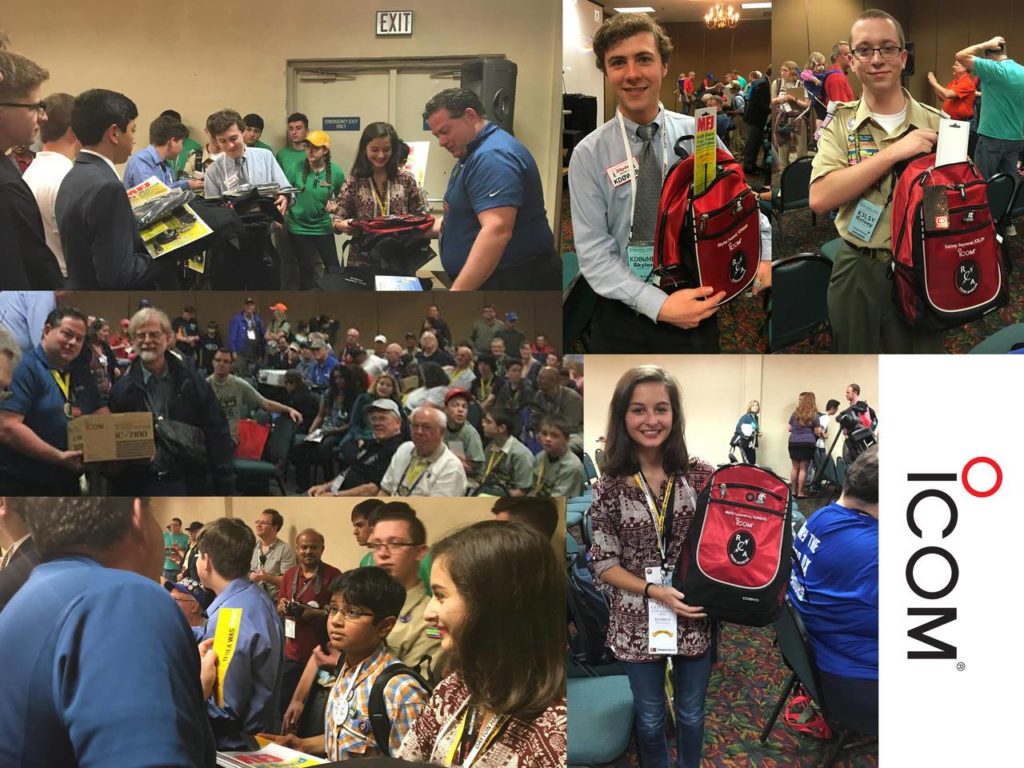 AmateurLogic.TV
George and Tommy were shooting their show in the Icom Booth. You can find the first episode here.
They interviewed all sorts of people from every aspect of amateur radio. It's a show you won't want to miss. Watch for Part 2.
Icom Prize Winners
We'd like to congratulate a few folks at some of the events during the show. Dave Anderson, K4SV, was the proud recipient of a new IC-7300 at the DX Dinner event. Bruce Blain, K1BG, ended up winning a brand new IC-7600 to ride the airwaves on. Congratulations to all the winners at the Dayton Hamvention® show and we certainly can't wait until next year to award more lucky participants.
#IcomEverywhere
This year's Dayton Hamvention® was such a blast. I really enjoyed spending time with so many of my friends and customers. Follow us on our social media channels and use #IcomEverywhere. We would love to hear your stories and experiences!
Start making your plans now and join us next year!
Ray Novak, N9JA
Senior Sales Manager
Lifetime Amateur Radio Enthusiast