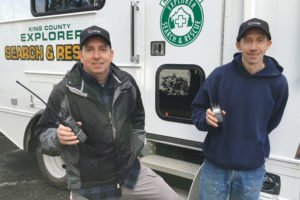 Customer service is the heart of any successful business. It is not just about providing the basics, but going above and beyond is what makes a company's customer service soar. We have all experienced good and bad customer service, and the good service is what creates customer loyalty.
At Icom we pride ourselves on providing top quality and service to all our customers. Anyone who does not believe in going the extra mile for a customer would have recently been proven wrong.
A couple of weeks ago, James Mueller of the King County Search and Rescue Office approached Icom's Service Manager Dywane Black. They wanted five of their Icom F5601 radios to be interoperable. King County Search and Rescue Association (KCSARA) is a volunteer organization. Members respond to numerous incidents every year involving lost or injured hikers, missing aircrafts and assist with natural disaster incidents as well. Having interoperable equipment is vital to complete their missions.
The Icom Service Department discovered that the KSCSARA exclusively uses Icom radios in their fleets. The F5601 radios were unable to communicate with the various amateur and avionics agencies in the region.
To ease the impact and vehicle downtime, the van was brought into the Icom Service Department. The Service Department was able to quickly configure these radios and get the vehicle back on the road. They were even able to address their airband connectivity questions with the A110, helping to implement KSCSARA entire AIR, LAND and SEA package. In the end, the equipment was repaired in minimal time and the van was quickly back on the road.
" We showed a customer Icom is not a corporation, but a touchable and responsive partner with them that day, and I truly believe whether we solved this issue or not, we would still have an Icom loyal customer for life!" – Dywane Black, Icom Service Manager