Icom America began its relationship with Boy Scouts of America in 1981, by loaning equipment to the K2BSA Amateur Radio Association's jamboree operation at Fort A.P. Hill. That continued up till 2012, when Icom signed a sponsorship agreement with the Boy Scouts of America. I'm very pleased to note that we have renewed our sponsorship through 2018.
What is Radio Scouting?
Radio Scouting is a pretty simple concept – it is everything involved with amateur radio within Scouting. At the heart of Radio Scouting is talking with other Scouts on-air, sharing stories, and learning about other cultures. Radio Scouting also introduces the technology and magic of amateur radio. It does this in a number of ways starting with Jamboree-on-the-Air.
Scouting and Badges
Those active in Scouting know that the entire program is based on badges — earning badges through the rank advancement program leading to Eagle Scout or collecting and trading patches from events and special activities. I'm pleased to note that Radio Scouting has it's own set of badges.
First is the Radio Merit Badge. Started in 1918 as the Wireless Merit Badge, it changed its name in the early 1920s. The requirements for the badge include technical knowledge, as well as getting on the air. Currently around 7,000 Scouts earn this badge each year. It ranks as number 73 on the list of over 130 merit badges.
Next up is the Amateur Radio Operator Rating Strip. This badge is awarded after receiving an amateur radio license. Scouts wear this on the right sleeve of their uniform.
Another fun badge is the Morse Code Interpreter Strip. This requires that you send and receive CW at five words per minute. It is sewn above your right pocket, just like any other interpreter strip.
Finally, there is the ARRL Amateur Radio Service to Scouting Award that is granted to adult leaders who have made a significant contribution to providing Scouts with a memorable and valuable amateur radio experience. Thanks to the ARRL for recognizing the leaders that make a difference in introducing amateur radio to Scouts.
Jamboree-on-the-Air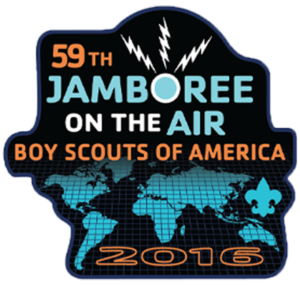 Jamboree-on-the-Air (JOTA) is the largest Scouting event in the world with over 1 million Scouts and more than 10,000 amateur radio stations operated by nearly 20,000 amateur radio operators.
Over the last several years we have seen U.S. participation in JOTA grow substantially. However, even though station registration has been at a high level, filing reports after the event has been disappointing. So this year, Icom is helping with some additional incentive by providing prizes for a drawing that includes all U.S. JOTA stations that file a report. We are providing an ID-51A Plus along with Icom Ham Crew T-Shirts.
The 59th JOTA will be held on October 14-16, 2016. Be sure to keep track of the World JOTA-JOTI events, starting times, and activities. It is a big event that serves as a superb introduction to amateur radio around the world.

Scouting Loan Stations
One aspect of Icom's sponsorship is providing 10 complete stations for loan to local Scout councils to support their amateur radio activities including summer camps, Radio Merit Badge workshops, and of course, JOTA. The first loan stations provided the IC-7200 along with power supply, microphone, and antenna. We are now refitting the stations with our new IC-7300. This rig will be a real hit with Scouts and their leaders as the touch screen interface and spectrum display are bound to capture a Scout's interest. After all, the touch screen display is just like the smart phone in their pocket.
National Scout Jamboree
Icom h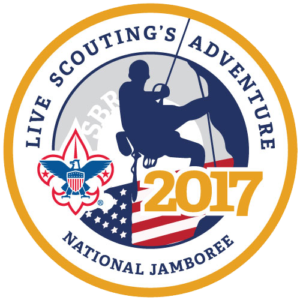 as also provided support at the National Scout Jamboree. With the move to West Virginia, we have set up three amateur radio repeaters on a permanent basis at the Summit Bechtel Scout Reserve. They operate not only for the Jamboree, but for all activities.
Icom America was the official transceiver supplier during the 2013 Jamboree and continues that support for the 2017 Jamboree. In 2013 we provided IC-7200, IC-7600, and IC-9100 transceivers along with power supplies, microphones, and the IC-R6 receiver for use in fox hunting activities.
Special Events
Our support for Scouting is certainly not limited to the JOTA and the National Scout Jamboree. In 2015 we supported the National Order of the Arrow Conference on their 100th Anniversary with an IC-7700 loan station. In summer 2016, the Philmont Scout Ranch was on the air as K2BSA/5, also with an IC-7700.
World Jamboree
Our parent organization also supports Scouting. In 2015, they provided the transceivers for the World Scout Jamboree station 8N23WSJ from Japan.
Ham Talk Live
Neil Rapp, WB9VPG, at Ham Talk Live recently hosted Will Jourdain, AA4WJ, from Icom America, and Jim Wilson, K5ND, from the K2BSA Amateur Radio Association for a discussion of what is happening with amateur radio in Scouting and how Icom is playing an important part. I wish that I could have been there, but you can hear their discussion at Scouting and Ham Radio.
Mentoring the Next Generation of Hams
Icom America is actively involved in working with Scouting to introduce amateur radio to the next generation of ham radio operators. Or, if they do not become licensed hams, at least they have some familiarity with the hobby. After all, they may become the part of their homeowner's association leadership or local zoning board members that will either approve or disapprove that new tower you are planning.
I encourage all hams to get involved with Radio Scouting in your local community. At a minimum, you can get on the air the third weekend in October and talk to Scouts around the world about their experience with amateur radio and Scouting.
It's always worthwhile to support youth in our great hobby.
73
Ray Novak, N9JA
Senior Sales Manager 
Lifetime Amateur Radio Enthusiast