Icom has been a sponsor of Scouting for over 15 years by supporting Jamboree on the Air, and more recently with the station loan program for Scout councils/camps, and as the official transceiver supplier for the K2BSA National Scout Jamboree operation.  Given that background, I was fascinated to learn about the ARRL's year-long program promoting the 100th anniversary of the National Park Service. It's called National Parks on the Air.
Scouting and National Parks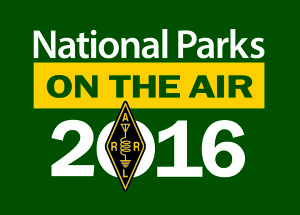 The great outdoors and Scouting go together like peas and carrots!  And it appears that the ARRL recognizes this as well as I see Youth/Scouting involvement as one of the items on the "Five Star Activator" award.
Some of the other activities on the list would also be fun for Scouts:
Youth/Scouting – activate a National Park unit with a youth or Scouting group.
Green Power – use solar, wind, water, or non-fossil fuel power (this includes green power charged batteries.
Battery Power – charge up your batteries and get out to a National Park unit.
Share the Mike – have a non-ham or new ham make a contact. This is perfect for Scouts. It also brings to mind the possibilities during Jamboree on the Air. This year's JOTA is October 14-16.
Intrepid Traveler – activate at least five different NPS units. This would be perfect for a troop's camping activities over the year.
If you have a question on what parks qualify, the ARRL has created a great resource with the full listing of NPS units covering parks from Denali National Park in Alaska to to Cape Canaveral National Seashore in Florida. I'm confident that you can find one near you to activate and bring along a Scouting troop, pack, or crew to pick up the Scouting Involvement activity!  You never know, you may spark the bug for this wonderful hobby in the heart of someone who will become a vital technology developer for the future of Amateur Radio, not to mention, a part of your Five Star Activator certificate.
Activation is only one part of the fun, get on the air and chase some of the activations too!  The ARRL has again created a great resource to assist with locating those activations with a listing of Registered Events within 10 Days.  Additionally, the have a log of all the current registered events throughout the year.
Scout Ranger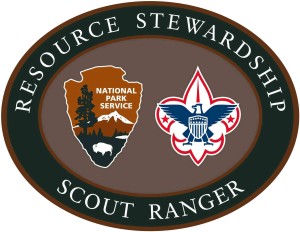 While the Amateur Radio activation can help many scouts earn their Radio Merit Badge with the final "On the Air" portion of the badge requirement, Scouts can do double duty as the National Park Service recognizes the link with Scouting.  The NPS has established the Scout Ranger Program.  In this program, Scouts can earn a certificate for five hours spent in an educational program or service project and they can earn a patch (pictured) for ten hours.
As many of you know, Scouting runs on recognition. Certificates are great but a patch is at least worth its weight in gold as a motivator for Scouts.  If this is of interest, you'll find their How to Earn a Scout Ranger Certificate or Patch page to be very valuable.
Why Not Combine the Three Programs?
Add that extra element of fun by combining ALL THREE programs!  Get 'radio-active' and incorporate an educational program or service project element to your NPOTA activation and work with a local Scout troop to help Scouts finish their radio merit badge!  This will not only get the Scouts on the air, it will get them involved in learning more about the national park and/or giving back to the park through a service project. Plus, you've got the built in motivator of a certificate or patch for the Scouts.
While the NPS hasn't supplied much detail of what's required other than the five and ten hour levels but the big key is contacting the park unit and working with them to determine what's needed to help out. After all, that's what Scouts do! They help out with their "Do a Good Turn Daily" slogan extended to contributing to their community.
Icom Radios Play Well Outdoors and in Scouting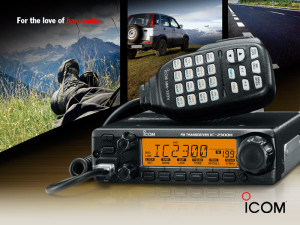 In our Scout loan station program we've provided the IC-7200. It's being activated at Scout camps and events throughout the year and across the country. Other rigs you should consider for your outdoor activations of course include our hand-held units from the ID-51A, with built in GPS, to the V80 HD.
The IC-7100 also makes great compact field radio as do our VHF/UHF mobile stations: ID-5100A, ID-880H, IC-2730A, and IC-2300H.
Make it Happen!!!
No matter which rig you use, venture out into the great outdoors during the National Parks Service 100th anniversary and bring some Scouts with you to pass on the legacy of amateur radio. You never know, the life you touch with amateur radio may be the one who changes the future!  So, add National Parks on the Air and Scout Ranger to your plans for 2016.