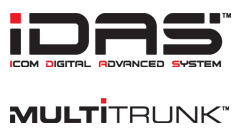 Even after years of successful deployments, IDAS MultiTrunk remains a mystery for much of the LMR community. This lack of exposure is unfortunate because a properly deployed NXDN Type-D system is a reliable, cost effective, and bandwidth efficient straightforward solution. While P25 has all the hype these days, its implementation is cost prohibitive for many smaller public safety or commercial agencies. These entities typically require modest coverage area, yet more talk paths than a conventional system can offer, and the level of reliability that public safety demands. This mid-level solution is where MultiTrunk really shines.
As with all trunked LMR solutions, the key benefit here is increased capacity. IDAS technology is based on 6.25 kHz channel spacing – this really compounds that capacity advantage. If you currently operate on 12.5 kHz licenses, it may be possible to double your talk paths by converting – while still maintaining clear digital audio. Combine that with the ability to use talkgroups effectively, and it becomes possible to move much more voice traffic than with conventional radio.
See this blog post and this white paper on 6.25 kHz spacing for more info.
An unsung feature of Type D trunking is the design to operate without a control channel. In analog trunking, this can be thought of as a "required disadvantage". You need it, but nobody wants it. With digital technology backed hauled on a strong IP network, it becomes an opportunity for the better use of an RF asset. While large systems with many subscribers should be designed with a dedicated collect channel to ensure reliable access to users, smaller systems might be able to share that responsibility onto a low priority voice channel for good results.
Another great facet of MultiTrunk is the ability to roam from site to site without user action. Correctly spaced sites in conjunction with careful system optimization can result in excellent uninterrupted coverage of high quality digital audio over quite a large footprint.
One piece that cannot be stressed enough during the deployment of any trunked LMR system is attention to detail. Through the process of inception to design to engineering, installation and optimization, every aspect of the system should be reviewed and validated. Site surveys of physical and RF environment are of utmost importance. Coverage coordination, design and verification are steps that should never be skimped. This is all about measure twice, cut once.
Beyond that, a trunked system manager should retain control of a strong, secure, and isolated backhaul network. Sharing ROIP traffic with internet connections or general office activity (email, database servers, etc…) is not a successful strategy. If using a shared backhaul, at the minimum a VLAN with guaranteed network throughput should be provisioned. And remember, just because an IP based LMR solution might work over commercially available broadband internet connections, doesn't mean it's the best idea. In the fine print, providers often sneak in phrases like "for entertainment purposes only".
We know that good RF system installation techs are hard to come by these days. This is challenging because as we continue to move to digital systems, we become significantly more susceptible to signal degradation. In the analog world, we might have withstood poor installation practices by tolerating scratchy audio at the fringes. Simply put, those days are gone. Mediocre installations practices are just not cutting it in the digital domain. These systems must be installed with the correct RF combining, receive filtering, and antennas. R-56 installations are highly recommended. Not only do they ensure the best operation of your equipment, they expect other site tenants to do the same.
IDAS MultiTrunk offers the ability to better use your spectrum and improve audio clarity over analog with digital voice technology. MultiTrunk is future proof in continued support, ongoing development, and 6.25 kHz bandwidth. If you are looking to increase capacity over your existing system but have to work within a realistic budget, a properly implemented MultiTrunk system might be just the ticket.