A two-way radio system using a repeater may have great coverage except in areas, such as parking garages and basements of buildings, whose environmental factors create stubborn "dead" spots. In these locations, the repeater signal reaches the radio, but the handheld cannot reach back to the repeater. The traditional solution to this problem is to add Bi-Directional Amplifier and Distributed Antenna System within the building. Although this is a proven approach to get signals into problem areas, it can be complicated and costly. The complication comes from ensuring the signal is not overlapping the original in a manner that interferes with itself.  The costliness is due to the need of running antenna coaxial cable from the amplifiers to the trouble zone, which may require many feet of cable and possible drilling through walls.
Icom makes a digital voting LINQ system that utilizes voting receivers wherever dead spots exist. This gives the system builder the choice of strategically placing receivers wherever they know portables will have a difficult time transmitting back to the repeater. If there are multiple voting receivers, the system then "votes" on the best signal based on RSSI and retransmits it out the repeater. The end result allows the weak portable signal to reach the repeater through the receiver and over IP/Ethernet.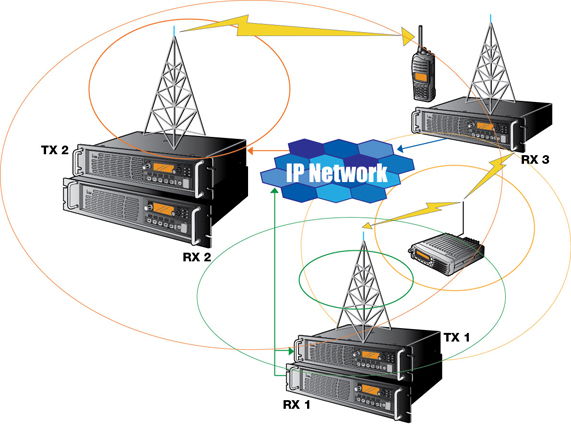 Learn more of other IDAS™ LINQ solutions and check out Icom's earlier post on how you can extend radio range without adding a repeater.