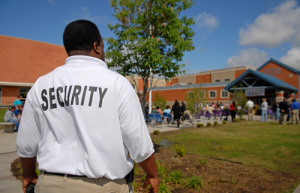 Icom recently attended an exciting conference that gathered top decision makers in K-12 school security. The overarching message from all of the attendees and speakers is the importance of relationship and communication with students, service and solutions providers. Communications technology plays a significant role in enhancing the ability to mitigate and quickly communicate root causes for incidences that unfortunately occur in our schools today. Instantly connecting all staff and security ensures that situation awareness is shared throughout the school and even the district. Communication response time confirms that an incident is managed at the lowest level of escalation.
Summit participants have the desire to improve safety for their students and understand the importance of communications. Attendees were really interested in connecting all schools in a district as well as integrating phone systems and legacy RF equipment. It is apparent that K-12 decision makers are excited for a communications system that increases coverage and promotes compatibility between an assortment of equipment.
An IP radio system combined with a RoIP gateway seamlessly unites multiple communications formats. A configuration such as Icom's IP100 WLAN radio and VE-PG3 RoIP Gateway allows campus staff to communicate with anyone at anytime – especially when it's most important. Icom looks forward to helping security and safety professionals manage crisis in their K-12 schools through an effective communications solution.