#IcomEverywhere turned out to be just that — absolutely everywhere. It was a true whirlwind of activities from one end of HARA Arena to the other. And, it also took in Contest University, the DX Dinner, Contest Dinner, and D-Star InfoCon.
Icom Booth
Each year we plan and focus on putting together a really fun experience for everyone who attends Hamvention®. It's a massive effort and thanks to everyone on our staff and many, many others that helped out.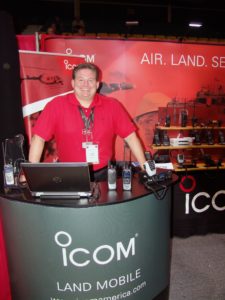 As part of our #IcomEverywhere campaign, we also showed off our extensive range of land mobile equipment as well as a sprinkling of marine and avionics products to engage with a broad range of radio enthusiasts at the show. Read More...