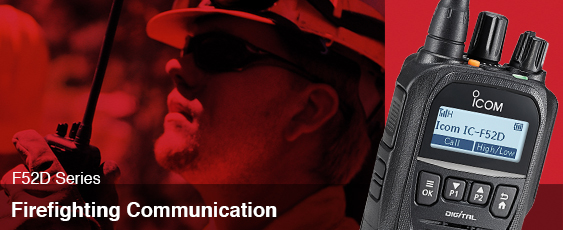 When a fire strikes, time is of an essence for the firefighters and those trapped. Being able to have effective fireground radio communications during these situations is vital, but can be proven difficult. Firefighters are engulfed in a hostile environment filled with smoke, water and falling objects, all while in a cloud of ash-filled darkness. They have safety equipment to help combat these conditions, however during these stress-full situations everything needs to work perfectly, even their radios.
Communication Barriers
There are numerous factors piling up against those battling the fire, all which can impede their communications. Firefighters are often lying on the floor, with limited visibility, fierce heat and lots of moisture. Not the most optimal time to communicate. Their self-contained breathing apparatus (SCBA) facepiece distorts their voice. The fireground is filled with noises of engines, roaring fire hoses and loud voices, hindering clear communications. On top of these factors, firefighters must also keep heat away from their ears and hands, adding to the communication challenge. When a portable radio is just as important as other safety equipment, like a SCAB or personal protective equipment, it needs to be the highest quality around.
Icom to the Rescue
Firefighters need heavy-duty, reliable two-way radios. Their radios need to be able to withstand all the environmental factors they may encounter, while providing quality transmissions. Icom's new digital F52D/F62D series does all this and more.
This new IDAS™ radio is not only cost-effective, but its small, compact design allows firefighters to easily carry along with their other personal protective equipment. It is smaller and lighter than the popular F50V series, and will fit in the palm of your hands, even with gloves! The design of this radio has taken gloved-operations into consideration with its two slanted knobs. When physically holding the radio is not possible, the F52D allows for hands-free communication with the built-in Bluetooth® option.
The F52D/F62D series might be little, but it is strong and powerful. It is built to MIL-STD-810 G Standard, withstanding shock, vibration and temperature. Plus its IP67 waterproof and dust-tight protection will keep water out when firefighters are working in these extreme conditions.
For emergency situations, the F52D/F62D will help keep firefighters safe with its advanced safety and security features. Built-in emergency functions like man down, lone worker and motion detection will add additional layer of protection during intense situations. Security features include digital/analog voice scrambler, password protection and more.
The F52D/F62D series has another feature that all firefighters will be ecstatic for, especially volunteers. Everyday the tens of thousands of volunteer firefighters around the country wear pagers to receive fire alerts and also a radio to respond to the fire. Carrying two devices can be cumbersome, but with the F52D/F62D series paging and voice recording is included. Customize the alert in 2-tone, 5-tone, MDC and more. The radio will vibrate with enough force to be felt through clothing.
Other features include multiple operating modes, Over-the-Air Programming (OTAP) function and extended battery life make in-field programing and operational changes possible.
Next time you respond to an emergency fire, make sure your communication device is up for the challenge. Icom is the choice when you want to take your communications to the next level.