Earlier on this blog, I wrote about Emergency Communications — Amateur Radio's Role. In that post I touched on the things that I feel make amateur radio ideal for emergency communications:
Communication Options — Amateur radio offers frequencies from HF to VHF to UHF as well as communication modes from CW to D-STAR. That range of options allows local, regional, or national communications in times of need.
Volunteers — The number of licensed amateur radio operators has never been greater. They are eager to get involved to help out in any situation.
Training — There are plenty of training options available from introductory courses to management courses. That includes ARRL courses as well as FEMA Community Emergency Response Team (CERT), Incident Command System (ICS), and National Incident Management System (NIMS) training.
Experience — ARRL Field Day is a great way to test your club's ability to get a station on the air, make contacts, and get everyone involved. Hopefully, you also have other events that you're supporting in addition to your routine repeater and equipment maintenance.
I also pointed out in that blog post that there can often be a big gap between technical skills and the human skills that we bring to any emergency. It's all well and good that we have the radios, training, and experience but if we can't mesh with the existing first responder organization, we're not really helping. And, in fact, we may be hindering their effectiveness.
Be Prepared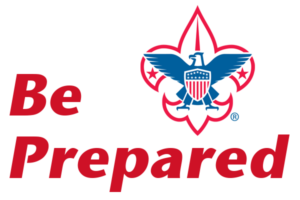 As you may know, Icom America supports the Boy Scouts. Their motto is "Be Prepared." That's a superb example of what I'm addressing here.
Scouting's founder Robert Baden-Powell when asked "prepared for what?" Responded "why, for any old thing." That's perfect insight into the underlying principle of "always ready." Ready for any emergency and any possibility of providing help. That may well turn out to be toting and lifting rather than talking into a microphone. So be it. But be ready.
I will also note that as part of your preparation make sure you don't become part of the problem. Get physically fit. Along with that you should realistically assess your own limitations. I know that once you could "leap tall buildings in a single bound" but that may no longer be the case…
Training
That concept, be prepared, applies particularly well to training. Of course, training should address the technical elements from radios to communication procedures. But it should also include related elements. CPR and first aid are superb examples.
As just one example, in Scouting first aid is required for advancement to every rank. It's simple really. Be prepared for every possible eventuality.
Communicating
Communication is at the heart of amateur radio. Yet it's quite possibly our biggest weakness. Not communicating over the radio but communicating one-on-one with community organizations to determine where we can help.
They know what they need and usually have plans in place to deliver those needs. Ham radio operators showing up with HTs and saying we're here to help, probably doesn't fit into those plans. But I'm confident that you can help somewhere, somehow. But you need to be open to fully explore how you can best help.
Helping Where Needed – Professionalism
That brings to mind the old phrase: "if you're a hammer, the world looks like a nail." Sure, we're amateur radio operators and shouldn't everyone want what we have to offer? Sometimes the answer is no. They've already got that covered. Or what they do need doesn't readily fit into our mindset of what we can offer.
That's where you can demonstrate your professionalism, in responding to open problem solving. Being open about what you can offer and paying particular attention to what the community organization really needs at that particular moment.
Of course, ideally you've been involved with your community emergency plans over the years and already are a part of their planning. If that's the case, you've really demonstrated professionalism. My hat is off to you.
You Can Make a Difference
Here's how I ended my earlier blog post on emergency communications:
You can make a difference with your amateur radio skills and experience. But don't forget the softer side of that skill. Working with others to truly serve those first responders.
The Scout motto is "Be Prepared." Make it yours.
73,
Ray Novak, N9JA
Senior Sales Manager
Lifetime Amateur Radio Enthusiast