They say that change is inevitable, but I was beginning to have my doubts about Hamvention®. I should not have.
The Dayton Amateur Radio Association (DARA) started the event in 1952 with 600 in attendance, and moved to HARA Arena in 1964, where attendance climbed to near 30 thousand.
Now they have moved to the Greene County Fairgrounds in Xenia, Ohio. What a fantastic venue and what a great job by DARA in getting this huge event up and running.
Hams to Japan – #H2JA
We're really excited to hold the Hams to Japan Sweepstakes and wanted to incorporate it into the mix at the Hamvention® booth this year.  A kiosk was placed at the from of our booth, allowing visitors to sign up while at Hamvention®. We have had great participation so far and only expect more until our final drawing. The grand prize drawing, a trip for two to  2017 Tokyo Hamfair or an IC-7300, will announce the second week of July.
Excitement is building and we look forward to sending a ham on a dream vacation to the largest amateur radio event in the world. Enter each Tuesday for a chance to win an Icom radio or the grand prize! Follow our Facebook or Twitter feed for more information.
New Booth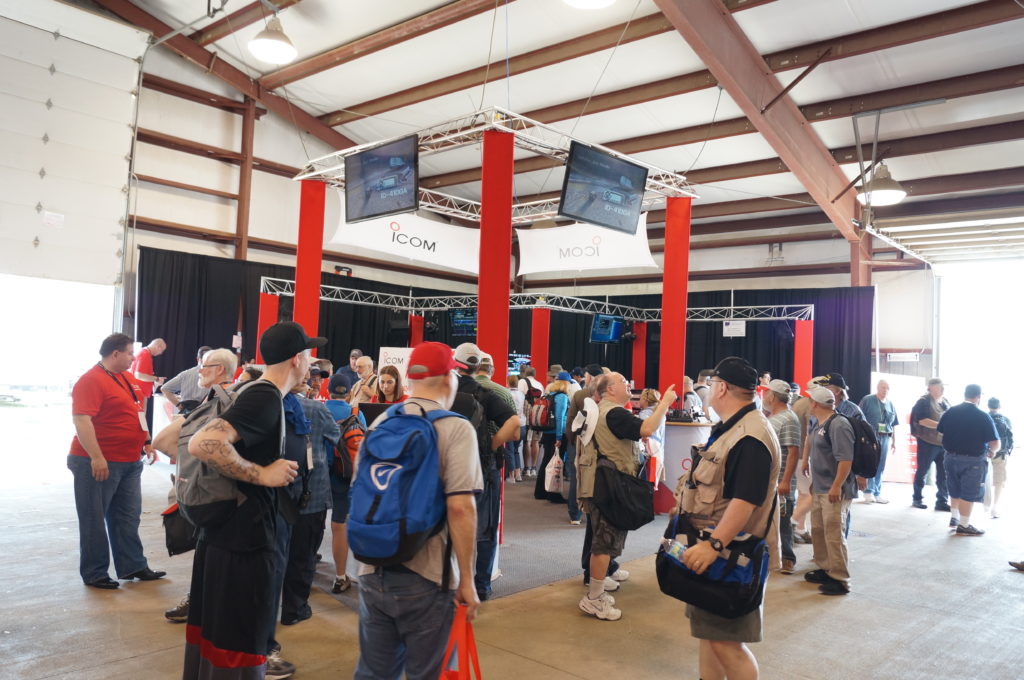 One benefit of coming back to the same place year after year is you know what to expect. Plus, your staff and procedures run like clockwork as you've done it so many times before. Not so this year.
It was a new venue, which called for a new booth! We were able to redesign our booth and in the process allow for greater access to the equipment displays, more room for conversations between hams and our staff members. Hats off to our team that made it all work.
New Rigs
"New" was definitely the theme this year, so of course we had to showcase some new rigs. The big attraction was the IC-7610. It has not yet been approved by the FCC, but we expect it to be available this Fall. It's the next step in the evolution of our direct sampling transceivers, following the success of the IC-7300. You can see the preliminary information on our website and Adam Farson, VA7OJ, has a quick review on his website.
We also brought our new entry level D-STAR mobile ID-4100, and all our other great rigs so attendees could see first hand the quality of our equipment and operate them.
Contest University
We have been a long-time sponsor of Tim Duffy's Contest University. If you have not yet attended, I highly recommend it. It's extremely well organized and the information that is shared can really boost your contest scores.
We also provide live streaming video of several of the sessions. You can find the full list on YouTube at Contest University 2017. One of my favorites was the presentation given by Rob Sherwood, NC0B, titled Disruptive Technologies, How They Change Our Hobby.
In this presentation he compares traditional superheterodyne receivers with direct sampling receivers. He particularly notes that this is one of the disruptive technologies that he is seeing today and notes that the IC-7300 has initiated a "tectonic shift" in the technology used in amateur radio. You heard it on this blog first, in my post titled "IC-7300 — A Game Changer."
Youth Forum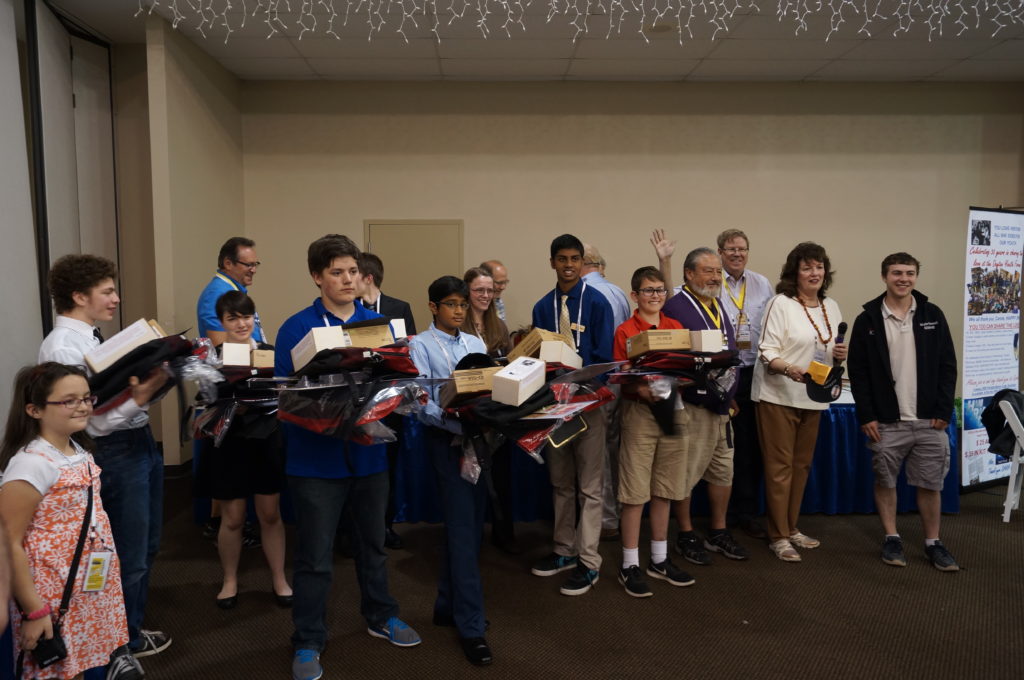 One thing that did not change this year was the Youth Forum. In fact, Carole Perry, WB2MGP, celebrated 30 years of hosting the event. Congratulations Carole!
The 2017 Hamvention® Youth Forum lineup was, as always, fantastic. Here's the list of presentations:
Lucas Schroeder, W6LDS (15) "The SharkRF openSPOT"
Carissa Ferguson, KJ4EZA(17) "Robotics and Ham Radio"
Dakota Krzysik, KE8CVK(17) "Activations: Islands, Lighthouses, and Ships"
Grace Lea, KM4TXT(9) "Solar Power Mania"
Jerome Dinakar, KE0BBQ(16) "Tribute to Ellie Van Winkle"
Evan Markowitz, KD2IZW(18) "Balloon Based Repeater for Emergency Applications"
Ruth Willet, KM4LAO(18) "Plugging into Your Valuable Club Resources"
Chris Brault, KD8YVJ(14) "Getting Started with SDR"
Dhruv Rebba, KC9ZJX(13) "Community Services with Ham Radio Communications"
Ham Nation 300th Episode
Bob Heil's Ham Nation produced their 300th episode "On Location From Hamvention®." We are a proud sponsor and it was fabulous to be on the show.
Highlights — Too Many to Cover
There were a ton of highlights during the Hamvention®,  too may to cover in a brief blog post. In summary, the overall event went fantastic. It was indeed time for change and it went extremely well. Congratulations to DARA and all the Hamvention® volunteers that made it happen.
We will be back! I guess some things don't change…
73,
Ray Novak, N9JA
Senior Sales Manager
Lifetime Amateur Radio Enthusiast