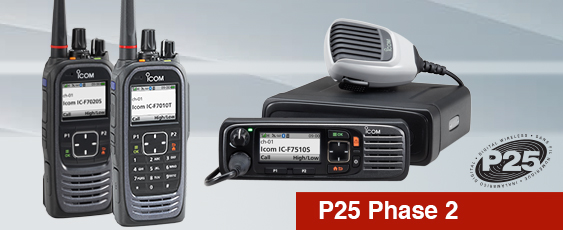 Government, public safety and public service agencies relay on digital two-way communication solutions. With such an important purchase, the most current technological and operational features should be available. Many public agencies use P25 products and Icom's 3rd generation of P25 advances this product line to the next level!
What is P25?
P25 is a set of standards for digital radio communications. It is used by federal, state/province and local public safety organizations within North America, allowing interoperable two-way communications between agencies. With a standard in place, government agencies can choose from multiple products when selecting their communications equipment, ultimately saving money and gaining the freedom to select from the widest range of features.
How is Icom Advancing the P25 Product Line?
Icom is building an entire line of P25 radios and coming soon, the F7000 series will be a welcoming addition to the family. The F7000 series has been designed to offer the latest features to support the ever-advancing P25 standard.
With P25 Phase 2 capabilities as an optional upgrade, the new F7000 series is ready for the latest systems being installed nation-wide. Increased channel capacity up to 1,024 and ID lists up to 1,000 provides the ability to address and operate within large multi-user organizations and agencies. Security features, such as AES with FIPS 140 and DES in conjunction with over the air rekeying (OTAR), ensure privacy levels of P25 communications are the same standard as used by the federal government.
Built specifically for public safety and service organizations, the F7000 series is prefect for any environment. The impressive and rugged design of this series comes with an IP68 waterproof rating and built to MIL-STD-810G standard. The high visibility color display provides easy viewing in any lighting conditions. And for those noisy environments, the active noise cancelling reduces background noise and is easy on the ears.
Technology has advanced programming of this series as well. Ways to upgrade the radios have expanded from the classic programming cables, as used with earlier series, to mirco-USB for high-speed transfers and even SD cards.
This series is packed with standard Icom features such as AquaQuake™, Bluetooth®, GPS and more. Future features will support data transfer, over the air provisioning (OTAP), front panel programming and GPS logging, making the F7000 series a contender with top tier products offered by the competition.
Investing in Icom's P25 communication solutions is investing in technology of the future. For more information, contact your local Icom Dealer.