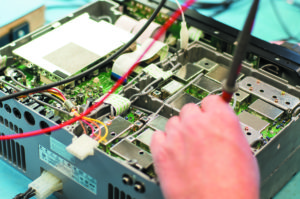 For either the advance or novice radio user, properly maintaining your communications equipment is essential. But what is the best way to do this?
The service department at Icom America's headquarters has a total 131 years of combined experience fixing and servicing Icom radios. They train and support the Icom services centers throughout the county. So they know a thing or two about radios. 
"We love the fact that we have a great product and that we can take care of our customers," technician David Stoppel said.
What is their best piece of advice for your radio? Not an easy question to answer, as Icom has hundreds of products. The care and maintenance of a radio will differ between a handheld or mobile, or from marine to land mobile. However, regardless of the radio you have, the Icom Service Technicians have a few tips and tricks to keeping your radio in good condition.
1. The Best of Frenemies. Just like oil and water, radios and water do not mix. Water will cause corrosion, which can destroy a radio. Try to keep the rain out and the radio away from water. Even if your radio is waterproof or water resistant, keep it dry whenever possible, wipe off any excess water before storing it and make sure the charging cap is sealed.
Another tip, always check the waterproof rating and warranty. A particular radio may only be waterproof to a certain depth. Better to check before testing it out!
2. Location, Location, Location! Where you place or store you radio can make all the difference, especially for mobile or base stations. Technician Kurt Boehm has seen the effects your environment can have on a radio.
"The fans pull in air. So a clean environment, clean air is important," Boehm said.
Ask yourself; will it get knocked around or bumped into? Are your surroundings dusty, humid or smoky? All these factors could impair the functionality of your device.
3. Say No to Drinks… and Food! Too many times the Icom Service Technician see radios that have become filled with food or drinks. Make sure you do not place anything on top of your radio. It really does not take much. A quick turn on the boat, your radio is filled with coffee. Trying to grab something in your Ham shack, your soda tumbles on top of your radio. Avoid unwanted mishaps and keep food and drinks away.
4. An Antenna is not a Hand, Don't Shake It. Grabbing or swinging a radio by the antenna can loosen cables or wires within. The radios may appear "broken" when in reality it is just a fuse or the cable just needs to be tighten.
"Nine times out of ten its the connection that's the problem,"  technician David Parson said.
So NEVER hold your radio by the antenna. A good tip to help prevent this; use a proper radio carrier on your body like a lanyard or belt clip.
5. Don't Forget to Study! The best piece of advice our experts have is RESEARCH. Find the radio that is right for you and figure out what will work best for your situation. If a radio is too complex or too simple for your needs, you may not know how to properly use it. When in doubt, ask! Your local Icom Dealer is a great resource and product expert.
"Make sure you know your local Icom Dealer and support them because they will know the best product for the customer," states Stoppel.
Following these five tips can help save your radio from taking service trip. If a problem ever does present, remember the Icom radio professionals are always here to assist.