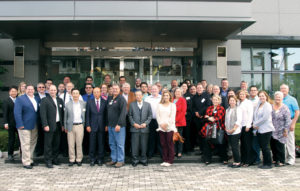 Earlier this year a contest was introduced, giving Icom Land Mobile dealers the opportunity to earn an all-expense paid trip to Japan for them and a guest. How did they do it? By meeting their purchase goal. Twenty dealers finished in the winner's group of their tier, and in early November they headed off to Japan for four days.
The trip to Japan was an extraordinary experience for all involved. It was not just a flight to Japan, the awarded dealers were able to visit Icom Inc headquarters, the Wakayama Factory and a number of historic sites.
On a day dedicated to sightseeing Japan's unique, ancient culture, dealers and their guests visited the temples and sites in of Kyoto including Kinkaku-ji Temple (the Golden Pavilion), Tenryu-ji Temple, Kiyomizu-drea Temple and the Arashiyama Bamboo Grove. While in Osaka the group also enjoyed the nightlife of Japan's third largest city and even were able to visit Osaka Castle.
"The trip was incredible on many levels, " said Wes Podboy, Icom Technical Channel Manager. "We arrived after sunset so the cities were lit up. It was an incredible sight for us on the bus."
Like some of the dealers, this was Podboys first international trip. Nearly 70 percent of the dealers participating in this trip had never been to Japan, and 20 percent had never traveled outside the United States. For these dealers traveling to Japan was not only a new experience, but an educational one as well.
The team of dealers visited the headquarters of Icom Inc, where Icom Inc Chairman, Mr. Tokuzo Inoue, JA3FA, addressed new and upcoming products at Icom, as well as his vision of the future. They were given an insider's look at what is to come on Icom's horizon. Engineers were even on-hand to answer any questions the dealers had about current and future product.
Japan is known for creating innovative, high-quality and stylish products, and Icom is a rare example of an electronic manufacture keeping its production base 100% in Japan. During the Wakayama Factory tour, dealers were given a first-hand look at the production line. They were able to witness how Icom products are assembled, calibrated, tested and packaged on the state-of-the-art surface mount production line. Viewing this highly advanced, manufacturing technique provided the dealers great insight on Icom products.
The trip to Japan was an unforgettable, fun experience for Icom's dealers and the Icom team. Thank you to everyone who participated in the Japan Trip incentive this year.