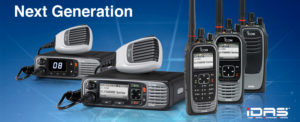 The way we communicate has changed tremendously over the last two decades. As technology advances in two-way communications, so do our devices. A radio is no longer just a radio. With each new generation, additional features and functions are included. But what do all these features do? How do they fit in real-life situations and who will benefit from them?
Bluetooth®
With many states now passing hands-free laws, the ability to use a communication device while driving is changing. Two-way radios with built-in Bluetooth® provide hands-free communication. While paired with a Bluetooth® headset, commercial vehicle drivers are able to answer a call hands-free and still be complaint with FMCSA.
Integrated GPS
Today GPS is an extremely helpful tool for any business or operation. Radios with GPS tracking allow dispatchers to track employees and vehicles, improving response time and increasing efficient fleet coordination. GPS capabilities also provide an added safety feature for workers. If a vehicle becomes stranded, its location can be determined by GPS.
Motion & Stationary Detection Sensors
Search and Rescue (SAR) teams and first responders put their lives on the line assisting others. Radios with emergency buttons or sensors like man down, motion detection, stationary detection, lone worker and power OFF emergency functions provide an added safety feature for those in potential dangerous situations.
Noise Cancelling Features
Noise cancelling feature are extremely beneficial in noisy environments like emergency situations or industrial settings. Amongst the noise and commotion while on the scene, communication between responders and dispatchers can become hard to hear. With noise cancelling feature the loss of critical information will be minimized.
Over-the-Air-Programming (OTAP)
OTAP helps save time and minimize service disruption. The OTAP function allows the operator to remotely change the programming data over the radio channel. For instance, adding a new repeater. OTAP is an extremely efficient function allowing the user to successfully manage their fleet with ease.
MicroSD Memory Card
Never miss a call again. MicroSD Memory Cards can record missed calls, allowing the user to replay it on the radio or a PC. Users can also record communications and easily review the conversation at a later date by downloading the data through the built-in USB port.
AquaQuake
A strong waterproof IP67 rating is essential for any water bound operation, but a draining function like AquaQuake™ is a beneficial feature. If the radio is submerged, AquaQuake™ clears away the water from the speaker grill, providing clearer communication.
A Radio's Look and Feel
A high-resolution color LCD enhances the visibility both in natural and indoor lighting. Display settings, which can be switched between day and night modes, are a great feature for outdoor operations likes construction companies or SAR teams.
Icom's new IDAS™ series is more than just a radio. Not only does its updated slim look make the radio look appealing and smart, but also it encompasses all the above features and more. The F3400D handheld series is available in three display options. The F5400D mobile series is available in two display options.
To learn more about the Next Generation IDAS™ and all the available features, visit Next Generation IDAS.